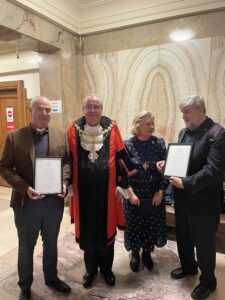 Canon Simon Butler, Vicar of St Mary's and Father David O'Malley, a priest of the Salesian Community in Surrey Lane, were awarded the Mayor's Pin and entry on the Mayor's Roll of Honour, for their service to the community during the Covid-19 pandemic, at a reception at Wandsworth Town Hall last night. Both had been instrumental, along with a number of others, in establishing and developing the community response of Coronavirus Angels across 2020. The Angels managed to recruit over 500 volunteers and undertook well over a thousand errands for local people isolated or unable to leave their homes during the lockdowns during the pandemic. Simon also developed a telephone befriending scheme supporting scores of people who had very few friends or others to talk to.
Commenting on the award, Simon said, "I was deeply touched to be nominated for this award, and must acknowledge the significant number of people who did so much behind the scenes to enable Coronavirus Angels to do what it was able to do for so many people. We have had such a strong response that it tells us something about the kindness that exists across our communities and the way in which churches, community groups, charities and individuals of goodwill can come together when strong links are built in partnership across the rich diversity we see in Battersea."
Although the Angels response was a specific response during the main part of the crisis, work is going on to see what can be built on to harness the energy that emerged at the height of the crisis.
The picture at the top shows Simon Butler and David O'Malley with Cllr Richard Field, the Mayor of Wandsworth, and Mrs Field, his consort. Below, local leaders from Battersea Park Rotary Club are pictured with Simon and the Leader of the Council, Ravi Govindia.