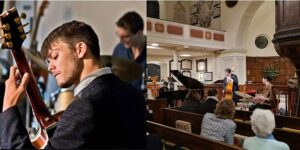 We are delighted to announce a series of Jazz Evenings at St Mary's Battersea, on the following evenings:
Friday 27th May: The Alex Bryson Trio
The next Jazz Evening at St Mary's will welcome the Alex Bryson Trio, featuring Jeremy Brown on bass and Matt Fishwick on drums. Alex is one of the leading pianists on the British jazz scene, and will also be performing material from his debut album, which was released in March. Tickets will be £7, available online on Eventbrite or on the door. Under 16s go free.
Please feel free to bring your own refreshments for a relaxed evening (there is no bar available at this performance).
A further Jazz Evening is planned at 7pm on Friday 24th June. Check back here for updates. And watch out for a special weekend of Jazz – including in our 11am Parish Eucharist – from 15th – 17th July.