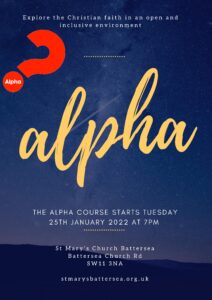 St Mary's Alpha Course is a version of the popular introduction to the Christian faith, which we run in an open and inclusive environment. The Course runs over about 10 Tuesday evenings beginning on Tuesday 25th January at 7pm and also includes a Quiet Day on a Saturday in March. Delicious food is served to so you can enjoy a meal together and get to know other participants, and there then follows a 20 minute video on an aspect of Christian faith (e.g. Who is Jesus? Why did Jesus die? How can I make the most of the rest of my life?), followed by an open group discussion.
No question is off-limits and you are welcome whether you have a faith or whether you're something of a sceptic. We run the Course with a culture of acceptance and exploration, committed to diversity and inclusion. For those who wish you can decide to be baptised and confirmed at the end of the Course.
If you want to find out more please email [email protected] and he will be happy to answer any questions you may have.